Description
The Morgan open face platinum head guards are Manufactured with high-quality cowhide leather for maximum durability and synthetic leather inside lining for superior comfort. Form-fitting top, dual back, and a chin strap velcro adjustable closure for a custom fit. Lightweight Sup-Flex Air Cushion padding ensures maximum protection and shock absorption. This headgear is manufactured to meet the AIBA specifications regarding overall head guard weight and the design makes this great cost-effective head guard for sparring.   

100% cowhide leather

405/410gr weight AIBA specification

2 adjustable velcro rear straps

Good ventilation with adjustable lace on top

Extra-wide angle vision

Excellent protection for the top of eyes, forehead, and temples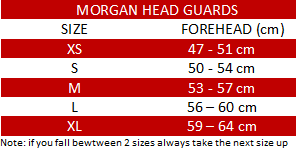 Payment & Security
Your payment information is processed securely. We do not store credit card details nor have access to your credit card information.